Source:
Craig Halperin Blog
After my Natto breakfast I met up with Denny and headed over to the MediaBlitz building. I met Adez, an animator who owns his own studio and teaches at Digital Studios. I also met Joedo who stage managed the event and Indah who MC'd. I interviewed for a podcast and went to lunch with Andi, the owner of Digital Studios as well as Paula and Mita from Koelnmesse, the producers for SIGGRAPH Asia.
Half of the folks as the table were fasting for Ramadan however I had a very nice tenderloin of Wagyu beef cooked to perfection on a hot stone on my plate. After lunch I did an interview with Andi for Digital Studios and went into the theater for the presentation. Over 200 people, many of them students, arrived for the two hour presentation.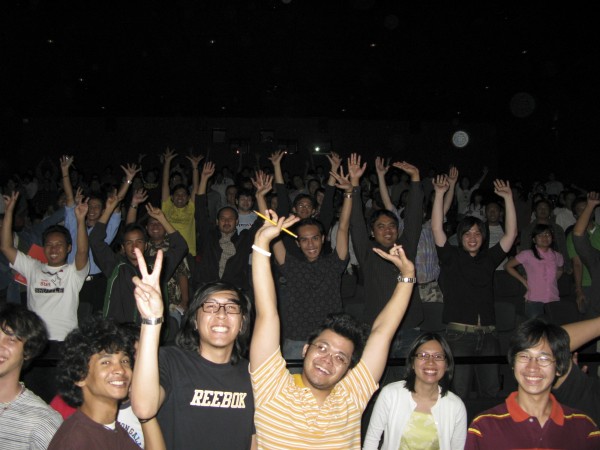 Afterwards, many of them hung out and asked for autographs.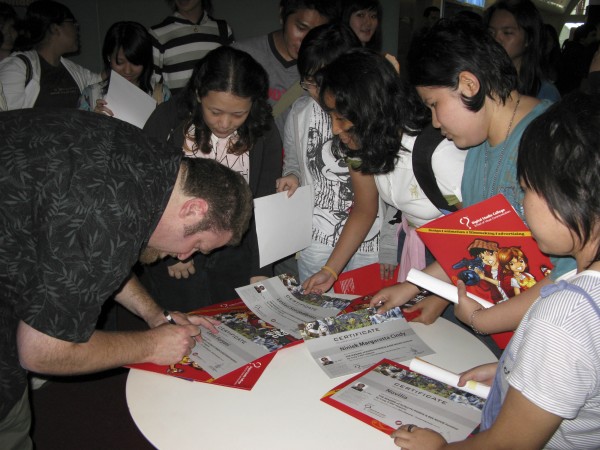 Romy showed up and we left for another engagement at TransTV. We had planned on getting there by 6pm to join them in breaking the Ramadan fast with the staff however we got stuck in one of Jakarta's notorious traffic jams and were late. I gave a presentation for their internal staff. All of the TransTV staff wear uniforms. At first I thought the whole building was full of security guards but it turns out to be a staff uniform, even for the artists, editors and behind the scenes talent.
There was one white guy on the staff named Chitwa. He looked a little punk or goth but I didn't get a chance to get his story. Afterwards, Denny, Romy and I had some drinks at a lounge, checked out a vodka bar and grabbed a late night snack at a padang style restaurant where the waiters drop off about 24 plates at the table then charge you by which ones you actually eat. Somehow they manage to carry all 24 plates at the same time. After that, I went back to the hotel and packed my bags for tomorrow's flight to Singapore.
The people I've met in Indonesia have been amazingly friendly. I'm glad to have had the opportunity, however brief, to get an introduction to Indonesian culture by way of the friends I've met here over the past two days. Denny and Romy have been amazing guides and I hope to meet them again some day.